Summer is in full swing so it's only appropriate that I do a post on ethical swimwear for this weeks Shop for MORE. Did you know there are oodles of choices when it comes to eco-friendly and fair trade swimwear?
I LOVE this laid back one piece by Bodkin on super sale at  Founders & Followers for $135 marked down from $225.
I kind of die for the modern triangle pattern in eco-line Mociun; the below one-pieces are on sale now for $131 used to be $230.

Both Bodkin and Mociun found on Ecouterre's post here.
 Love these sweet florals from fair trade brand Emobi at Fashion Conscience for $111.00.
And I find this one-piece made by Seattle based eco-friendly designer Kelly Berry super sexy with the cutouts going up the side. Available at BTC Elements for $130.
If you're more into classics this eco-friend polka-dot bikini should fit the bill. Found on the Huffington Post collaboration between Yooxygen and Katherine Hamnett $132.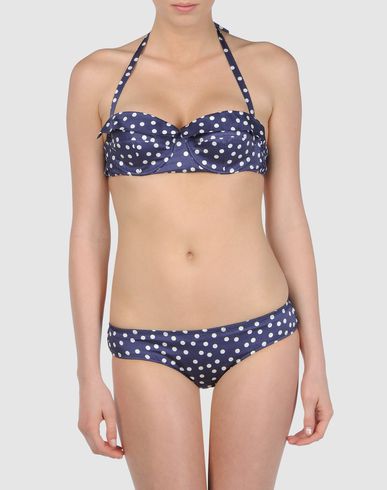 I am personally  an easy breezy kind of gal and would personally love to get my hands on the Manhattan One-Piece in tye-dye available at Fairies Dance for $115.
So friends, did you know ethical swimwear could be so chic? What do you think?
If you'd like to see the other ethical finds featured on this blog please help yourself to the Shop for MORE section in the categories on the sidebar or go to the top of the page and click on Links! Ethical Shopping. Happy shopping for MORE, dears.